Important Info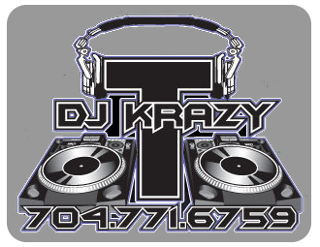 DJ Krazy T offers High Energy Live Entertainment because he is a Professional Disc Jockey he is going to offer the best service. You have elected to host an Event to remember with Charlotte North Carolina's Best DJ, and to whom much is given, Much is required! Here a few but simple rules;
Checks will only be accepted 30 days prior to your event, inside of 30 days checks will not be accepted.
Your date is NOT secured until deposit is paid.
PAYPAL PAYMENTS REQUIRE YOU ADD 4% TO PAYMENT.
Your $100 or $200 deposit secures your date for a Krazy T entertainment services DJ, to ensure your favorite DJ an additional $150 towards your private or corporate event or wedding deposit must be paid , this does NOT affect your balance BUT does guarantee your favorite DJ if available.
Overtime starts when contract time has expired.
If you elect to have fog and your venue does not allow it, you will NOT be refunded your additional charge, please check with venue upfront.
DJ will need to access venue at least 1 hour prior to event start time. (this does not affect your play time.)
ANY CD's or music you require and provide MUST be provided at least 30 minutes prior to event start time.
Your Deposit secures your date, your balance is due not less than 24 hours prior to your event (again checks are not accepted inside of 30 days).
If your event is outdoor you are responsible for making sure the DJ and his equipment are protected.
It is always YOUR responsibility to schedule your wedding consultation 3 to 6 weeks prior to your wedding date.
Travel will be charged at $1.20 per mile coming to your event, you are NOT responsible for the DJ to travel home. This starts 25 miles from metro Charlotte area.
If an overnight or Hotel stay is required, the hotel must be 3 Stars or greater NO exceptions.
DJ Krazy T's team /Krazy T Entertainment services staff will have DJ Krazy T ID badges and WILL NOT PAY TO ENTER YOUR EVENT.
Light rentals for events where a KTES DJ is not the DJ are allowed, rentals are 24 hours. The late fee is a FULL day rental per 6 hours.
DJ REQUIRES a minimum of 3 cold bottles of water ALWAYS.